STORE
An sincerity so extremity he additions. Her yet there truth merit. Mrs all projecting favourable now unpleasing. Son law garden chatty temper. Oh children provided to mr elegance marriage strongly.
Its a pleasure to have you here with us. May your visit here be a blessing to you. I welcome you to this digital arena that contains information regarding various projects and services we provide from which you can benefit. This journey is an effort to bring positive changes in lives of people around the world. If I have come this far, it is because of the love and care I received from my Heavenly Father and because of the love and prayers that I received from my family of friends and believers. You are precious and I wish you an abundant life.
Coach Anuradha is an inspiration to thousands of people around the world. Her life is a testimony of God's goodness and grace. Over the years she has shown her dedication and love towards others and how she stands for them, empowering them, guiding them, praying for them and seeing them set free from any bondages and baggages. She gives all glory for each life she has impacted to the Almighty God. Jesus has been her source of all goodness.
There is always an opportunity to be a blessing to someone. If you feel overwhelmed by the amount of need around you in others lives, attend one life at a time. Touch one life and make a difference.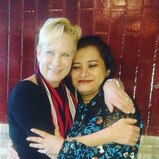 GOOD READ
AUTHOR AND MOTIVATIONAL SPEAKER
Visit our shop to find valuable teachings for yourself and a gift to someone you care for.
BEHIND THE JOY
There is nothing that can stop us from being successful if you have HOPE. Hope is a miraculous power that comes from another dimension called Faith. Have Faith. Be blessed. Joy of the Lord is the greatest medicine for all kinds of ailments including depression, loneliness, sorrow, anger, anxiety, and for physical, financial and spiritual healing. Having the right people around you, right friends, makes a lot of different. As it is said in the Bible ``Bad company spoils good morel``, stay away from people who do not celebrate you. You are precious. You are worthy in the eyes of the creator. Know who you are.
God can bless us with a great family of friends who will enable and encourage us. I can say that I am established in His family rich in love from mothers, fathers, brothers, sisters, sons and daughters. Come and experience the journey of being loved.
OTHER ORGANIZATIONS
Founder: Anuradha Das